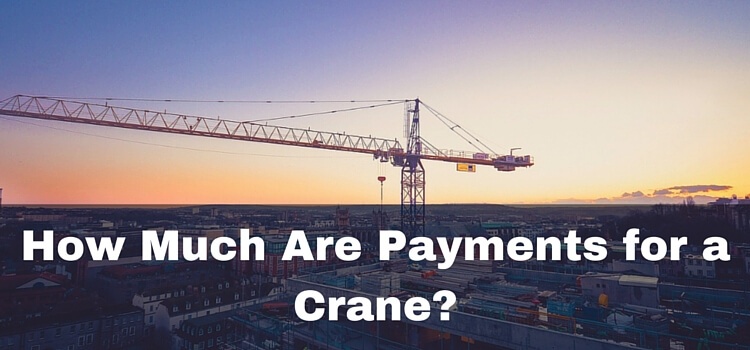 Are you looking into crane financing?
Financing for a crane is a little bit different than a lot of other types of equipment.
Do you want to know why?
Cranes aren't exactly "cheap."
When we help customers look at financing for a crane, we find most cranes cost from $200,000 to just over $1 million or so.
That's enough money that the transaction becomes just a little more complex....
(Which means we'll need to do a little more than just check your credit and ask for a couple of bank statements...)
With that, let's look at what it takes to get financing for your crane purchase.
Crane Leasing: How is it different than a loan?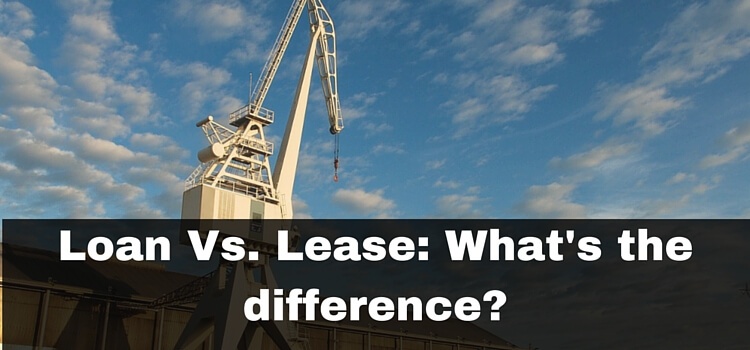 Most financing transactions for heavy equipment that aren't financed through your bank are set up as a "lease."
This can mean either:
You own the equipment at the end, or

It's your choice whether to return the equipment or keep it and make a balloon payment
In most cases, it's your choice how the transaction is structured.
Some of our customers like to know they'll own the equipment after X years.
On the other hand, your accountant may tell you that a "true lease" is the smarter option. A true lease means that you'll have to pay the equipment's fair market value (FMV) at the end to keep the equipment.
True leases have two advantages:
Your payments will be lower

In a true lease, you can write off your entire payment
Leasing isn't the best choice for everybody.
Here's one disadvantage:
You can pay off most bank loans at any time without prepayment penalties. Most leases, however, are set up so that you owe the entire payment stream of the lease.
Note: Here's something to be careful of when you're shopping for crane leasing.
Some unscrupulous leasing companies may tell you there is "no prepayment penalty. While technically true, what can be omitted is when there isn't any advantage to paying the lease early either...
Leasing has many advantages over your bank, though...

Will You Qualify to Finance a Crane?

Financing for a crane is less cut-and-dry than for more inexpensive types of construction equipment.
For example, imagine someone financing a $20,000 skid steer. If someone has good credit, or a little bit of collateral, the answer is almost always yes.
When you want to borrow hundreds of thousands of dollars, however, there will be some questions beyond "how high is your FICO score?"
Some important questions will be:
Is your company's cash flow sufficient to make the payments?

Does your company have enough cash on hand to weather a bad month or two?

How has your company performed historically?
Luckily, compared to a lot of other types of equipment, cranes hold their value pretty well.
This means that it is easier to finance a crane than many other types of equipment.
(It also means that leasing older equipment is usually not a problem).
We do often get inquiries from folks trying to start a business with zero money, bad credit and no collateral.
So, that's not gonna fly...
In most reasonable cases, however, we find there can a way to get you the financing you need.
What are the Payments on a Crane?

If you've been looking on the internet for crane financing you may have come across some "calculators" that show you what your payment might be.
The problem with these calculators is that just about all of them show you rates you're not really likely to be offered.
Let's say you want to finance a $250,000 crane over five years, owning the equipment at the end of the term (No balloon payment).
The best rates you'd likely encounter are around $5,300 monthly. This is the number online lease calculators will show you.
If you or your company has great credit, 5+ years in business, and rock solid financials, those numbers are pretty reasonable.
What about everyone else?
It really depend on the amount of risk the lender is taking on.
Let's look at what the payments would be based on different risk levels: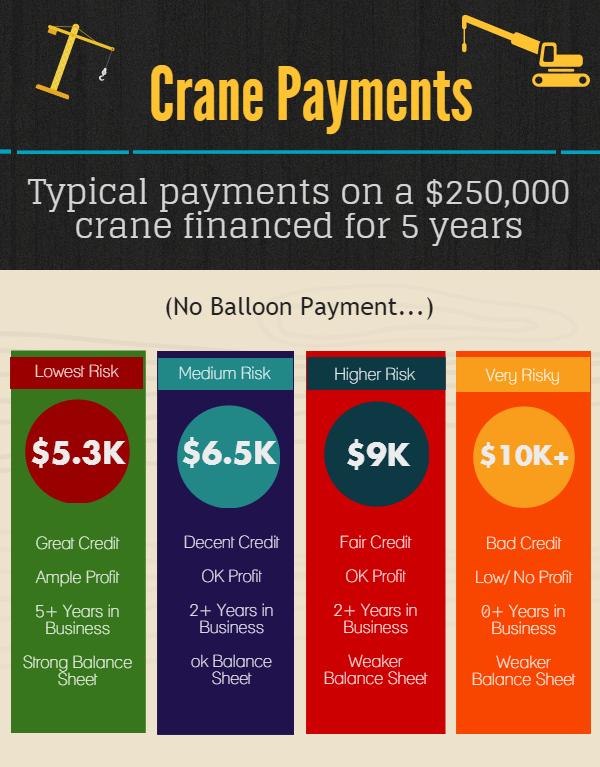 You'll notice a huge difference between the lowest payment and the highest payments, right?
A lot of times, the payments can be made more reasonable by doing a true lease.
However, we find when talking to customers that the most important factor is not the size of the payments.
You're 100% right to not want to pay high rates when you finance a crane for your business.
Here's the most important number, though:
How much profit will you make with the crane after all expenses (including the payments)?
We like to help you work through those numbers. Sometimes, we find that the numbers don't make sense for customers.
The simple fact is, you're better off working with a company that will help you determine if crane financing is right for you...
...than working with a company that shows you fake figures to get you to sign a lease so that they may line their own pockets at your expense.
Right?
Smarter Finance USA can help you get an honest quote to finance or lease a crane. Call us at (866) 631-9996 or click in the picture below to get a quote.