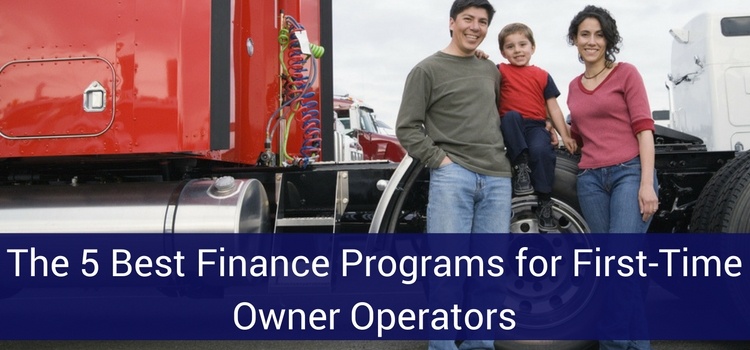 So…
You're trying to finance a commercial truck as a first time buyer.
It's a bitch, right?
And…
Finding the information you need to make a decision online?
Good luck with that.
I know what you're thinking too…
"Are these guys going to screw me on the rates?"
Check this out…
Special Note: There are dozens of programs available for owner operators. Some may be a better fit for you than others. To learn about more programs than are covered in this article, click here.
PS - Don't feel like reading?
You may also listen to this article by clicking the "play" button below. To download it to your phone, find the Smarter Business Finance Podcast in Itunes, Stitcher or Google Play.
Will You Qualify for Owner Operator Financing as a Startup?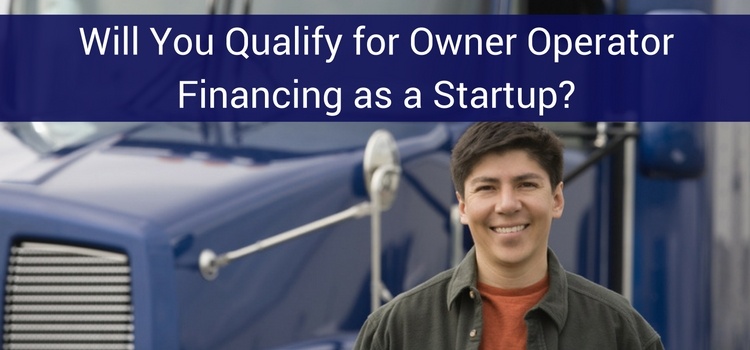 We get calls all the time from frustrated shoppers.
You see, many people get told that commercial truck financing isn't available for first-time buyers.
The truth is…
…most financing sources won't consider deals for new businesses…
...and they *double* won't do a new owner-operator business.
That doesn't mean the deal can't get done though. It just means you've been 'lookin for loans in all the wrong places'...
Here's what's important:
Do you have a down payment?

Is your credit good, bad or ugly?

How long have you had your CDL for?

How old is the truck you want, and how many miles does it have?
There are programs for *most* profiles.
Now…
If your credit report makes a lender's eyes bleed…
… and you have no down payment…
You're unlikely to get approved.
Oh, and let's talk about older trucks for a minute...
There are, thankfully, still programs available for startups to buy older vocational trucks.
However... sleeper trucks are an issue. Established businesses still have some options, particularly if they own 3 or more power units...
...but new business owners are going to find it near impossible to finance a sleeper truck old enough to be "pre-eLog" or "pre-emissions."
New businesses will find similar difficulty financing a truck with a rebuilt engine but over 700k miles on the chassis...and glider kits are totally out of the question.
When financing a new business, lenders do their best to mitigate risk - and part of that is trying to limit defaults due to equipment failure.
That means that in the case of sleepers, you'll usually want to look at trucks with under 700,000 miles and newer than 10 years old.
With that said, for any reasonable situation… there's a way to get you in to your truck.
(Whether it's a sleeper, dump truck, vocational truck, day cab, or even a trailer).
Here are some of the best programs out there:
1. The Best Lease to Own Program for New Owner Operators (With Good Credit)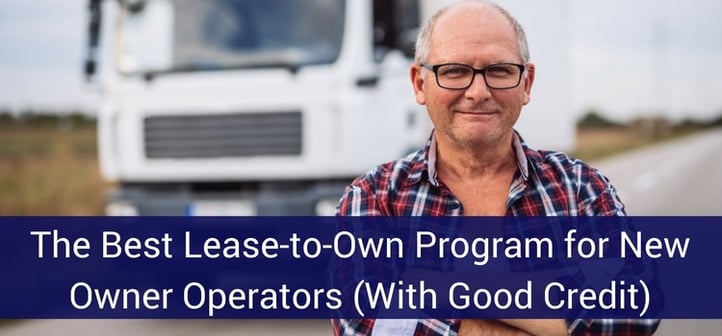 Here's an owner-operator startup loan program that some truckers have been pleased with.
It's not the easiest program to be approved for... but it rocks.
You'll need:
Good credit (minimum 700 FICO)

5+ years CDL experience

Either be a homeowner or have lived where you live for at least 5 years
This program is available for trucks less than 10 years old with less than 1 million miles.
You'll usually need 10% down.
Now, here are the payments.
Imagine a $40,000 truck financed for 48 months.
After 10% down, you'll pay $1,000 a month.
Find out if you qualify for this program here
That's the best rate I've seen for startups, period.
(Other than your bank...)
If your bank will loan you the money cheaper... go do that.
Of course, maybe you'll win at Powerball…
…banks don't really approve many startup anythings, particularly owner operator businesses.
2. Just OK Credit? Here's a Truck Lease Program That's Good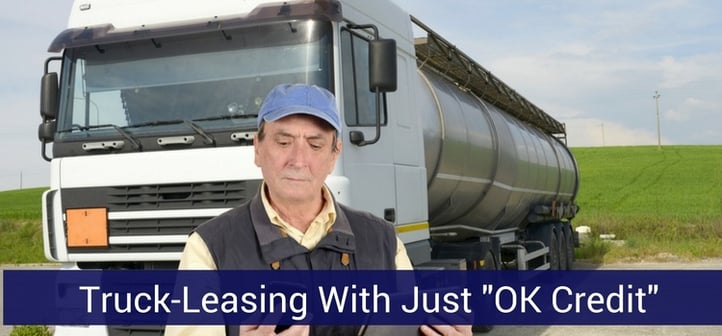 So… we often get asked about no money down financing for startup truckers.
Sorry... but the only programs we see with no money down are for FICO scores well above 700.
There are first-time semi truck buyer programs that don't go too crazy with the down payments though (as long as you have decent credit...)
One good program allows you to finance up to $150,000 and has down payments that can range from under 5% up to 20% (their computer figures out how much down you'll need based on some Wall Street mumbo jumbo...)
Here's what you'd need to qualify:
650+ FICO

At least 3 years experience (you should have your CDL for at least 3 years too...)

At least 6 tradelines on your credit

No older trucks
This program will only consider sleeper trucks 6 years old and newer, with under 700,000 miles. (Day cabs and other non-IRP/ vocational vehicles like dump trucks or tow trucks have looser restrictions).
A "tradeline" simply means an account on your credit report.
Each credit card, car loan, personal loan is counted as a tradeline.
Let's go back to that $40,000 truck…
You're looking at $1,100 to $1,500 in monthly truck payments on this program…
(For 48 months)
PS… I know… that's a wide range, right? Depending on factors like your credit, the age and mileage of the truck you're buying, and what your financial situation looks like, you could be anywhere within that range. A quick consult will show you what your payments might be.
3. Becoming an Owner Operator with Bad Credit (#1)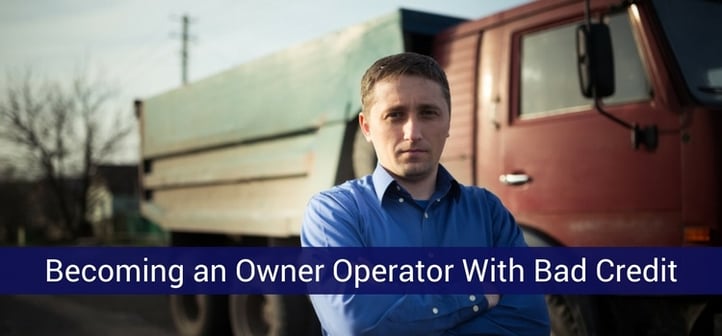 What if your credit isn't so good?
There are programs out there with rates near 100%...
…but let's be serious.
We're here to talk about good programs, not garbage.
Sometimes…
…with 25% down…
…you can get into a truck, even with bad credit and no time in business.
Here's the program:
Max funding amount $40,000 (So, with 25% down, you could buy a $53,333 truck)

Truck must be 8 years old or newer, with less than 700,000 miles

You must not have tax liens above $10,000, and no child support issues
Let's go back to our $40,000 truck.
Remember, you'd need $10,000 down.
Payments would be between $1,125 and $1,400 monthly on this program.
Becoming an Owner Operator with Bad Credit (#2)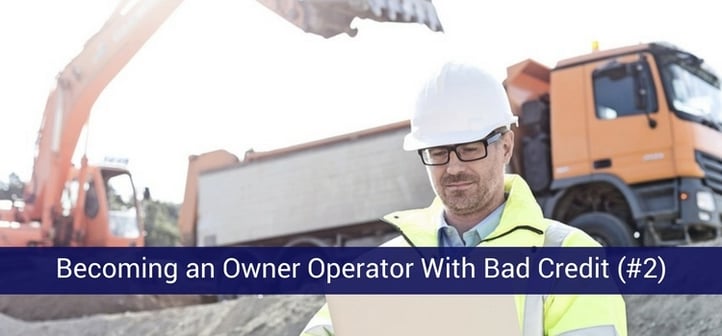 Let's say you aren't buying a newish truck.
(Less than 8 years old).
Did you know…
…with 50% down…
You can finance (almost) anything?
Almost the only thing that will keep you out of a truck is child support issues or an open bankruptcy.
Get Approved for Your First Truck Here
For apples-to-apples
Imagine that $40,000 truck again.
Remember, you'll need to come up with $20,000 down.
Payments range from $700 to $1,050 assuming 48 months.
Also, if you happen to own other equipment, such as trucks or yellow iron, collateral can be pledged in lieu of a down payment.
5. Using a Buy-Here-Pay Here Leasing Program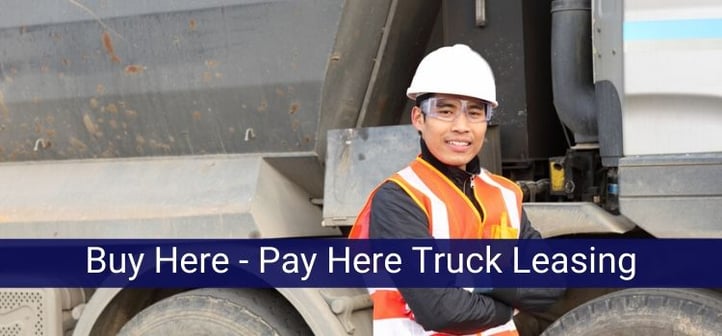 Let's say your credit isn't perfect.
Let's also imagine you don't have a lot of money down.
Buy-here-pay-here semi truck leasing can be an option.
You have to be careful, as some drivers have had problems with these sorts of businesses.
But... when you don't qualify for other programs, our salespeople can connect to a reputable buy-here-pay-here truck dealership.
Here are the basics:
You'll need $3,000 to $5,000 down, and should have $3,000 or more left over in the bank for fuel and repairs, etc.

You need to have had your CDL for 12 months

Most of the trucks available are 3-7 years old with 400,000 to 600,000 miles
This is a "weekly payment" program with most trucks carrying a payment of around $400 a week.
Not sure which program best fits your budget?
We can usually give you a quick estimate.
What Now?
There are dozens of programs out there for new owner operators.
The ones we just showed you are, in our opinion, the *best* programs in the marketplace.
You may be a great fit for one of the programs we just went over…
… or we may have to show you something else.
To get started, call us at (866) 631-9996 or click in the picture below.