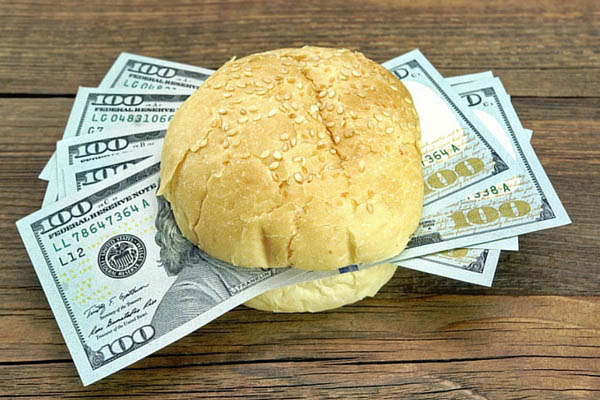 Do you need a loan for your restaurant?
Have you tried your bank?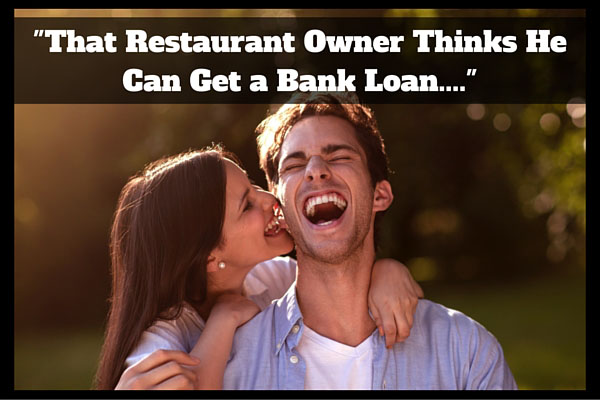 I know... that's a silly question.
You'd have better luck buying a handful of scratchers at the gas station than trying to score restaurant financing through Bank of Whatever.
The good news is that there are plenty of other places to look for restaurant loans.
If you're trying to figure out what your rates will be...
... now that's a totally different story.
What are Interest Rates for a Restaurant Cash Advance?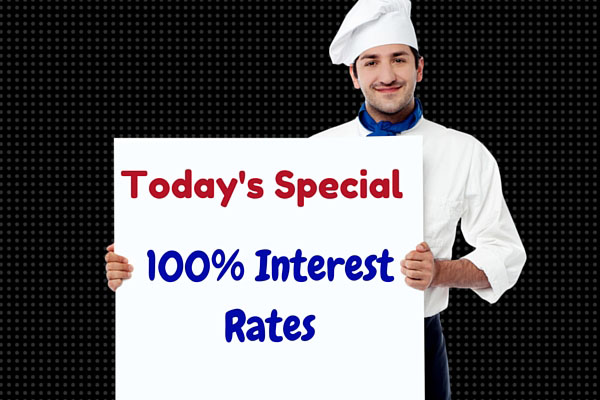 When you start looking on the internet for loans, you'll come across ads that look like this:
Most of the time, these companies are selling you a product where you borrow money and you're quoted in one of two ways:
Daily payments that are made to sound small

A percentage of your credit card sales that is made to sounds small (known as a merchant cash advance)
When you ask what the interest rate is, you'll be told that there "isn't an interest rate."
Do you want to know the truth?
There's an interest rate.
And it's big.
Like REALLY BIG.
You just have to be a NASA engineer to figure it out....
Here's the deal:
Instead of an "interest rate" you'll be quoted some number like "1.3." That means for every dollar borrowed you'd pay back $1.30.
Want to know what the interest rates really are?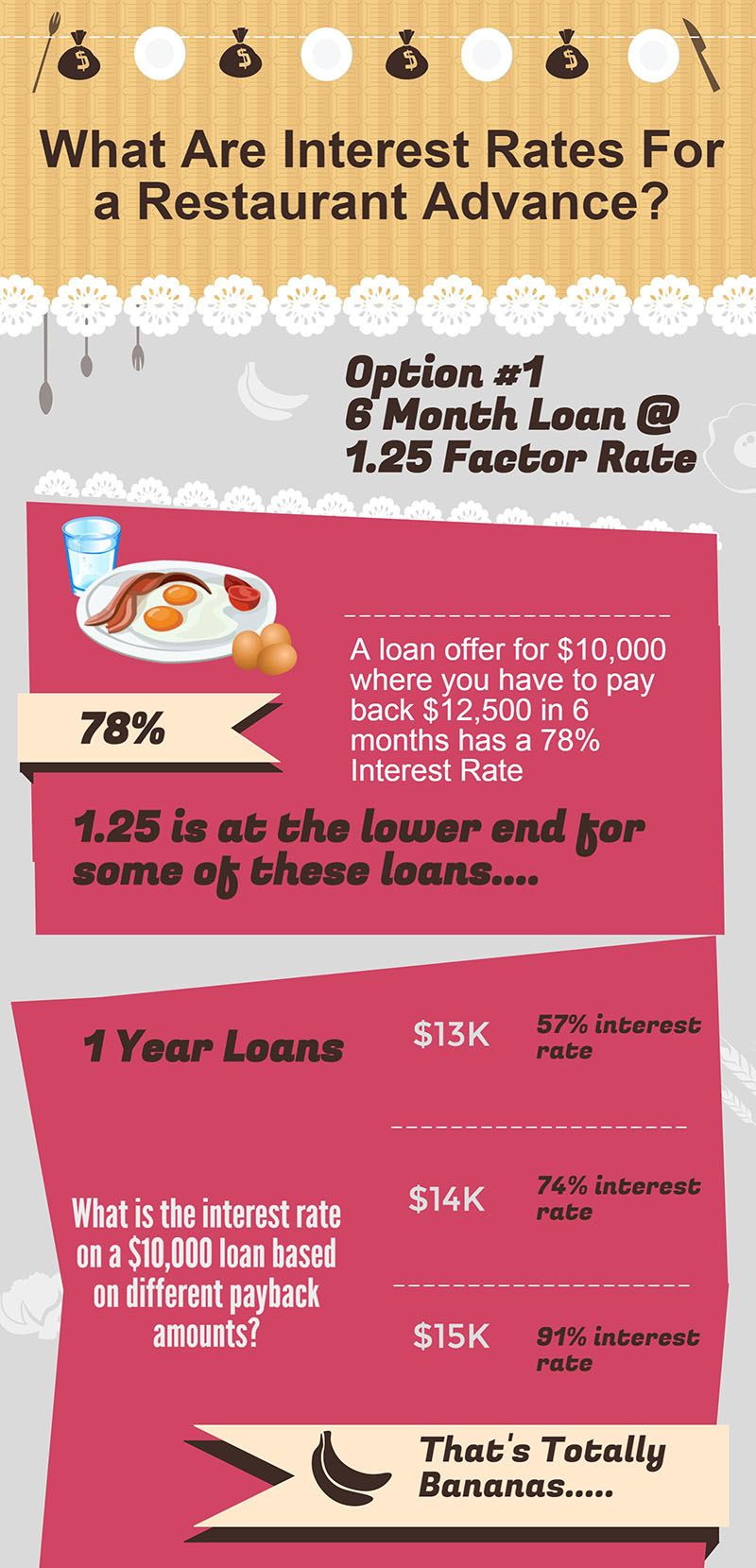 That's bazonkers, right?
Totally bananas.
Do you want to know the real problem?
It's not usually the rates that kill you....
... it's the size of those freakin' payments.
Take a $50k loan, paying it back at 1.3 over six months. If you look at the amount getting sucked away from you every month, the monthly payments come out to $10,833.
Now, if that's the only loan you can qualify for...
... and you can generate enough money from use of the funds that those payments make sense...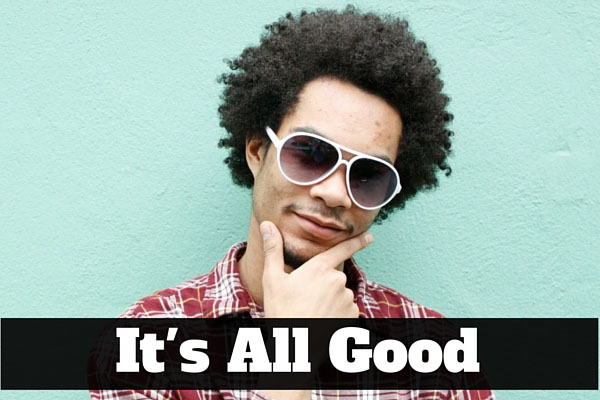 However, if that's the case, you should at least go into it knowing what's up, no?
The truth is, in many cases there are way more reasonable options - but they can be hard to find sometimes.
Here's the Dirty Truth:
Let's say you need a $50k loan for your restaurant.
Now, let's say you get jacked on a six month daily loan at enormous rates.
Not only can the person arranging the loan pocket $5,000 to $7,500 commission on the deal, but when you are out of cash and need more money in 3-6 months, you'll come back for more.
When you do something more reasonable (we'll get to the more reasonable options in a minute...) profits are way smaller.
On that same $50k loan, the person selling a reasonable loan to you might only pocket $1,000 to $2,500, and since payments will be more reasonable you may not need to borrow again for years.
Special Note: We're happy to make gobs of money by arranging a crazy loan for you, but only if we can't find you a better option. We're even happier about not being scum, which means doing the best thing by you, the customer.
Are There Better Restaurant Business Loans?

In a word, YES....
Which loans work and which don't really depend on your situation.
Pro-tip: if any part of the money you need is to buy furniture, fixtures, or equipment, you would be better served looking into equipment financing. There are some things to watch out for when financing restaurant equipment, but most restaurant owners can qualify for reasonable equipment leasing and financing.
If you (and your restaurant):
Have been open 1 or more years

Is profitable on paper (your tax return) at least 1 of the last 2 years

Does $250,000 or more per year in sales

Is not a sole proprietorship

And you have a 600+ credit score
In many cases we can arrange a reasonable term restaurant loan from 1-5 years up to $500k at rates from 5% to 25% depending on your situation.
Rates would depend on how bad or good your credit is, along with other factors such as how long you need to pay back the money and how many years you've been operating.
There are no prepayment penalties either, so you can pay these loans off early to save interest.
The one drawback to these loans is that they don't happen overnight. Since rates are reasonable there's a little bit of work to be done and the process can often take a week or two.
What Restaurant Funding Options are There?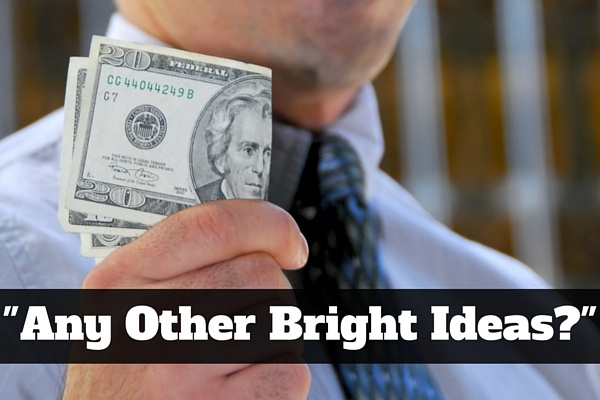 So, let's say you don't qualify for the super-reasonable term loans we just spoke of.
In many cases, the next best thing in restaurant funding is a high-interest rate term loan.
(Yeah, yeah. I know I'm supposed to make up some lingo to sugarcoat it.
If you're shopping around on the internet for restaurant loans, though, I bet you're getting pretty sick of being lied to.....)
Here's the honest to God Truth:
Depending on your situation rates can go pretty high.
However, unlike with those daily payment loans, there will be no shenanigans.
You'll actually be told what the interest rate is, and be able to make a business decision as to whether those rates make sense or not.
Rates for these higher rate term loans are almost always lower than for those daily payment loans when computed as an interest rate.
They're not cheap, though.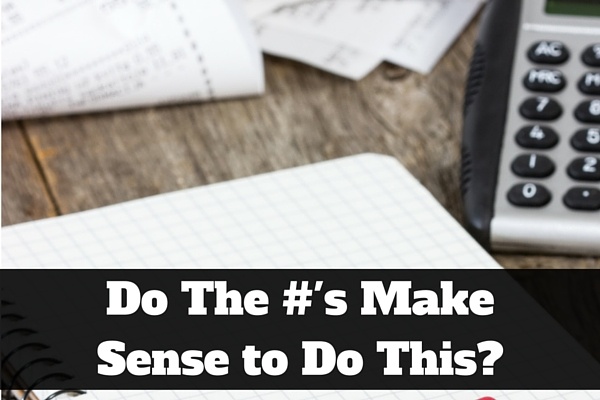 Rates start in the high 20's - but if someone would have to be crazy to lend you money...
(Like, if you hardly ever pay your bills....)
... rates could easily be 100+%.
Usually, the rates aren't that ridiculous, but if your credit score is 525, you don't really think you're going to be able to borrow money without paying the piper, right?
The good thing about higher-interest rate term loans is that even though they cost a lot, they don't cost nearly as much as those crazy "every day for six month" loans.
In general, if you look at two loan offers, one for a high interest rate loan, and one for a term loan, you'll pick the term loan every time.
Here's why:
On a monthly basis, the amount you will have pay on a term loan is usually about 1/3 to 1/2 the amount as on one of those yucky cash advance restaurant loans.
Some of these loans can go out up to 15 years, but you can pay them off early with no prepayment penalties.
Here's the deal on qualifying:
At least a 500 personal credit score

At least 2 months (yes, months) in business

Sole proprietorships are OK

Virtually any business can qualify (unless you're a dope dealer)
The truth on some of these products is that they are expensive, but sometimes they can be the best option that is available.
Conclusion:
There is no such thing as a bad loan (even those cash advances can be useful sometimes). There are, however, loans that can be a bad fit for you.
Should you choose to work with us, we will show you all of the options you might reasonably qualify for...
(even the ones where we make a lot less money)
... and let you make the decision about which financing product makes the most sense for you.
Sound like a plan?
To get started, you may call us at (800) 786-5696 or click in the picture below and get a quote.