If you're looking for a small business loan, there's a pretty good chance you've spoken to, or at least heard of, OnDeck Capital, Kabbage, or IOU Central.
All three of these lenders offer higher rate loans - IOU Central and OnDeck offer what's called "daily withdrawal", meaning that instead of a monthly loan payment, a certain amount of money is deducted from your bank account on business days (Monday through Friday). Kabbage offers a strange model which we'll go into below.
The great thing about these loans is that, the payments are like, um, really reasonable, because it's just a small amount taken out of your account every day.
That makes them affordable, right?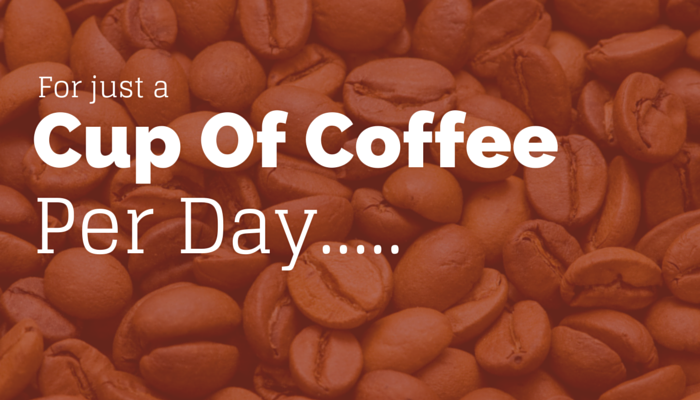 Do you want to know the real reason some lenders offer daily withdrawal loans?
You know the advertisements you get sometimes that tell you how you can solve all of Africa's problems for just the price of a cup of coffee a day?
It sounds like nothing, but after $1 a day for five years, all of those cups of coffee add up to about $1,865. If someone told you for just $1,865 you could help out starving kids, would you write a check?
The daily payment spiel is that the payments are meant to match with your cash flows to make things easier for you, but the truth is, if you were offered easy loans with interest rates from 54% to 150% you wouldn't exactly reach for your bank statements, now would you?
(Note: Here's a great article that discusses how changing the numbers can distort reality when you are making decisions).
So, All These Loans are Bad, Right?
Depending on your situation, any of these options could be a terrible idea for you, though in some circumstances these higher rate options can make sense. We only like to recommend you look into daily withdrawal products if there are no cheaper options available to you, AND if use of the money will generate enough profit to justify the very steep costs.
In cases where a higher rate business loan does make sense, all three are worthy options for your consideration, so let's go over them.
OnDeck Capital: Complaints? Kudos? Are they good or Bad?
We have an article here about why we don't offer our customers loans from OnDeck. However, just because we don't offer their products doesn't make them bad. In fact, I looked for complaints about OnDeck Capital online, and they had relatively few complaints for a company that has been growing at the rate OnDeck has, and the complaints that are available online don't really seem very credible.
The chief complaint we hear in the marketplace is that they have high rates, but their rates are on par with other lenders that offer this type of product, and in many cases are very competitive.
We do often get calls from very well qualified customers that have a loan offer from OnDeck that really qualify for much lower rate financing - when customers with $500,000 or more in revenues, good credit, and several years in business call us, often times we can find them a better deal - but that's not OnDeck's fault. OnDeck has a product, and it's your choice whether or not it's a fit for you.
If you are in a higher-risk category and need business funding, often times a loan from OnDeck can be just fine, and they have flexible options, with loans from $5,000 to $250,000 that range from 3 months to two years.
Should You Consider a Loan From IOU Central?
It depends.
We do suggest IOU Central to some of our customers, because their policy of having the same rates whether you work with them directly or get help finding them through a company like ours fits in well with our policy of being able to offer you the best advice possible based on your situation.
Before we suggest you use them, however, the question is whether a higher-rate product is right for you.
IOU Central is by far one of the least expensive of the daily payment lenders, so we do recommend their product when appropriate. (For example, a 6-month loan for $10,000 would have you paying back $11,544 - while not cheap money, the amount paid on an apples-to-apples basis is far cheaper that most short-term lending solutions).
Loans with IOU Central range from $5,000 to $150,000 for 6 to 12 months. Unlike other "daily payment" lenders, you can pay the loan off early without penalty.
When is Kabbage a Good Funding Option for your Business?
Do you need $2,500 yesterday? Kabbage could be perfect for you.
However, their rates are, well, weird. Kabbage offers 6 month loans where each of the first two months, you pay back 1/6 of your loan, plus fees between 1% and 13.5% and then 1% for each of the remaining 4 months.
At the 1% level, that's a reasonable loan - 20% or so rates. At the 13.5% level, that's a crazy 113% interest rate loan.
So, Kabbage is very transparent about their costs, but it's really hard to figure out what your interest rate is - kind of like that cup of coffee each day.
Loans with Kabbage are for 6 months only and range from $2,000 to $100,000.
Are There Alternatives to these Higher Rate Products?
There are a lot of alternatives, though which of these alternatives is right for you really depends on your situation. We offer a number of significantly lower cost solutions, one of our favorites is discussed here. However, the market is changing fast, so your best best is to talk to a company that offers not one product, but one that can give you solid advice based on your situation and pair you up with a match instead of trying to ram the only loan they have available down your throat.
To learn more about your options, or to apply for a loan, please call us at (800) 786-5696 or contact us.